Architecture Sculpture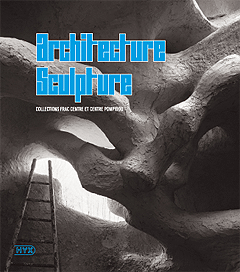 Architecture Sculpture
Collections Frac Centre et Centre Pompidou
The 1960s witnessed an esthetical "revolution" with the emergence of what was called Architecture-Sculpture. This book aims at retracing the history of this movement that spans between fine arts and architecture, through the works of its eleven greatest figures. From André Bloc to Claude Parent to Pierre Székély among others, it gathers, while exploring the collections of the FRAC Centre, the Centre Pompidou and the Fonds Cardot-Joly, the most emblematic creations of these artists-architects, as true sources of inspiration for today's prospective architecture.
Abstract
In the course of the 1950s, the reconstruction was a matter of urgency that would inevitably leave a profound mark on the land, thus drawing a particular attention to the search for a non-functionalist architecture. Some creators who moved in the circles around André Bloc (founder ofL'Architecture d'aujourd'hui) and the group Espace, advocated a genuine synthesis of arts through a joint effort from artists and architects. Michel Ragon would be the first to dub this new trend "Architecture-Sculpture", which had neither a leader nor a manifesto, and joined around the organicity of forms. If the house became in the 1960s the testing ground for this new formal display – which was enabled by new building techniques -, some large-scale achievements showed that another alternative was possible.
Architecture Sculpture - Collections FRAC Centre et Centre Pompidou, introduced by Marie-Ange Brayer, director of the FRAC Centre, is articulated around three essays (which deal with the origins and history of the trend and the role Pierre Joly and Véra Cardot played in its perception) as well as the presentation of 11 artists-architects* and their most emblematic works.
The book refers to the inventivity of a whole generation of creators who, as precursors of a plastic experimentation of the form, represent a true historical reference for contemporary architecture.
Its chronology of the trend is an adaptation of the one established by Michel Ragon.
Authors : Sophie Cazé, Marie-Ange Brayer, Véronique Wiesinger, Olivier Cinqualbre, Noëmie Giard, Aurélien Vernant.
Informations
Language(s):

French

Référence:

978-2-910385-55-2

Nombre de pages:

112

Couleur(s):

four colours - 130 illustrations

Type de reliure:

hard cover

Dimensions:

1 × 23 × 26 cm

Poids:

850 g

Partenaire:

En partenariat avec l'EPCC d'Issoudun, Musée de l'Hospice Saint-Roch, le Frac Centre et le Centre Pompidou