Jakob & MacFarlane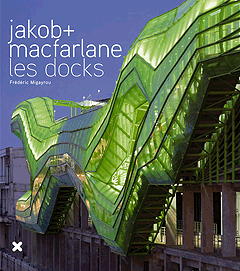 Jakob & MacFarlane
Les docks
Les Docks, the project designed by the architecture firm JAKOB + MACFARLANE, is one of the most original architectural works built in Paris in recent years. Standing beside the Seine, the "Cité de la Mode et du Design" gathers Under one roof the Institut Français de la Mode (French Fashion Institute), shops, eateries and a space for events. It has become an emblem of the capital's identity and culture...
Language(s):
English, French
Abstract
The origins of Les Docks rest upon a genuine historic monument, one of the first constructions in reinforced concrete built in the heart of Paris, in 1907. More than a mère restoration, the project by JAKOB + MACFARLANE appears as a "Plug-over" enhanced by exterior "grafts", crisscrossed by circulations totally open to the public…
This bilingual French/English book provides a richly illustrated overview of all the phases of the project, from design to construction, notably of the "Plug-over". Frédéric Migayrou, in his essay "Frameworks of intrication," renders an in-depth analysis of the work of Jakob+MacFarlane. Their architecture has established the foundations of a new materiality, a genuine physics of the context, in which the context becomes a resource that redefines the program. The architects draw upon techniques, uses, aesthetic practices, and blend in stories to create a composite material that reactivates and challenges the sites they take on. With Les Docks, a historic monument and one of the sources of modern architecture, the architects raise the height of the existing structure and expand its spaces. Now the building "stands out as a signal, an authentic urban system conjugating the historic and the contemporary in a totally new way."
The firm of Dominique Jakob and Brendan MacFarlane has produced some of the most innovative and experimental architecture in France. The architects are recognized for their creativity and their critical and conceptual approach: the Georges restaurant atop the Centre Pompidou, the FRAC Centre in Orleans the Orange Cube and the Euronews headquarters in Lyon…
Frédéric Migayrou is deputy director of the Musée National d'Art Moderne, Centre Pompidou and Chair Professor at the Bartlett School, University of London (UCL).
Contents
The frameworks of intrication, Frédéric Migayrou, p 13 // Archaeology of an innovative program, p 31 // The project, p 49 // The plug-over, p 65 // Integration into the context, p 91 // Bibliography, projects & conferences, p 138.
Informations
Language(s):

English, French

Référence:

978-2-910385-70-5

Nombre de pages:

144

Couleur(s):

four colors - 120 illustrations

Type de reliure:

hard cover

Dimensions:

1 × 23 × 26 cm

Poids:

900 g

Partenaire:

With the support of : Eiffage, Knauf, Soprema-Sopranature

Auteur:

Migayrou Frédéric