Archilab Europe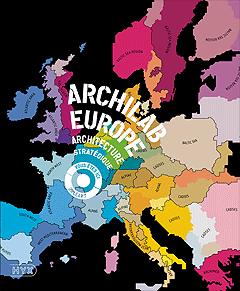 Archilab Europe
Strategic architecture
ArchiLab has become one of the key events in the field of contemporary architecture. The 8th edition of the international meeting of architecture in Orleans, as well as its official catalog, focuses on the transformations undergone by European cities, dealing with strategic architecture, or how architecture and urbanism are essential tools for the development of European cities and areas.
Abstract
Europe is in a constant building process. Its geography takes on new contours, with the emergence of new territories, be they transnational or interregional. Whole cities, areas and countries therefore end up being transformed. Through the strategic mapping it offers on the current and future evolution of the Old Continent, ArchiLab Europe aims at shedding light on this change, the objects of which are eminently political. From the housing bridge of Copenhagen to HafenCity, which consists in developing the quaysides of Hamburg in what is considered the most ambitious urban project in Europe, to the City of Freedom, Capital of Amber in Gdansk; has Europe initiated a forward-looking approach in terms of urbanism and quality of life? Do creation and innovation have a role to play in these programmes? Using a typology taken from natural science - Polymerisation, Implantation and Re-animation - ArchiLab Europe offers an analysis of some of the major projects, originating from 20 different countries (1) and more than thirty cities and areas on the continent.
The catalog introduces, around the texts of 15 authors (2), 50 projects or master plans (3), territory networking, insertions or plugs, re-labelling operations which reveal a search for identity, as outlined in the various programmes (especially with Zaha Hadid, Rem Koolhas, Vincente Guallart, Jakob & MacFarlane, Rudy Riciotti, etc.) achieved or underway in today's Europe.
1- Countries: Sweden, Denmark, Germany, France, Great Britain, Austria, Czech Republic, Slovakia, Hungary, Switzerland, Luxembourg, Belgium, Spain, Turkey, Iceland, Latvia, Poland, Slovenia, Italy, Finland. 2- Authors : Omar Akbar, Marie-Ange Brayer, Elke Mittmann, Annette Zehnter, Demet Mutman, Anna Baltschun, Natasa Pichler-Milanovic, Stefano Boeri, Edgars ZaLans, Ursula Achternkamp, Renate Künast, Frank Neubauer, Deniz Incedayi, Regina Bittner, Andres Kurg, Robert Maitland 3- Consist in planning space on the country, area or city level.
Informations
Language(s):

English

Référence:

978-2-910385-56-9

Nombre de pages:

184

Couleur(s):

four colours - 160 illustrations

Type de reliure:

soft bound

Dimensions:

1 × 23.5 × 28.5 cm

Poids:

1000 g

Partenaire:

Published in association with la mairie d'Orléans