Andrea Branzi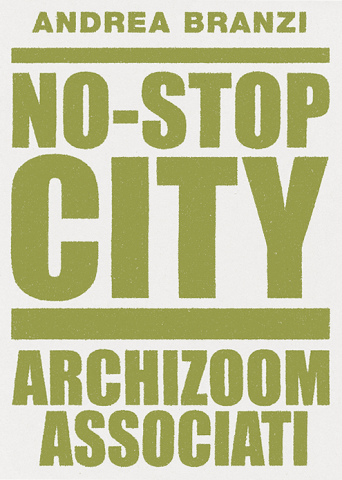 Andrea Branzi
No-stop city
For the very first time, the whole of this founding project of 1970s radical architecture is presented in this original blockbuster. Designed by Andrea Branzi, this work is a unique document, a political reflection on the urbanism and architecture that influenced a whole generation of architects from Rem Koolhaas and Frank O. Gehry to Daniel Libeskind, Bernard Tschumi and many others. The starting point of a new way of making architecture, No-Stop City, with its extremism, reconciles project and Utopia...
Language(s):
English, French
Abstract
In 1969, the Archizoom group, while carrying out an experimental work in the field of design, also undertook a research on environment, mass culture and the city, which led to the project No-Stop City.
Gathering all the texts and drawings, this book reveals to us the "Endless City" intertwining architecture with objects and the triumphant consumer society, giving an interpretation where the repetition of a single central element, a building or a group of objects makes up, through a play of mirrors, a catatonic environment, a boundless supermarket, a now reached future to be composed.
No-Stop City is a qualityless city in which the individual can achieve his own housing conditions as a creative, freed and personal activity. The theoretical project was first published in the review Casabella in 1970, under the title: "City, assembly line of social issues, ideology and theory of the metropolis". As Andrea Branzi puts it, this project implements "the idea of the fading away of architecture within metropolis".
No-Stop City is a critical Utopia, a model of global urbanization where design is the essential conceptual instrument used in the mutation of living patterns and territories.
"Considering architecture as an intermediate stage of urban organization that has to be overstepped, No-Stop City establishes a direct link between metropolis and furnishing objects: the city becomes a series of beds, tables, chairs and cupboards; the domestic and urban furniture fully coincide. To qualitative utopias, we oppose the only possible utopia: that of Quantity" (Andrea Branzi).
Informations
Language(s):

English, French

Nombre de pages:

192

Couleur(s):

quadrichromie

Type de reliure:

broché

Dimensions:

1 × 17.5 × 24.5 cm

Poids:

620 g

Auteur:

Branzi Andrea